We're excited to announce the college graduation of Margarita. After spending much of her childhood at Agua Viva Children's Home, Margarita has gone on to do so much with her life. Through many hard circumstances, including the loss of her brother Eduardo who also grew up at Agua Viva, she has continued to push forward and to find new and creative ways to provide for herself and to serve her students.
Some time back, Margarita finished high school with a certification as an elementary school specialist and immediately became a teacher. After 8 years of working in this field, she received her first opportunity to help special needs students. She immediately fell in love with this job and developed many strategies to help her students with their individual learning difficulties. A very prestigious private school in Guatemala City eventually hired her to start their special needs program, and her hard work has brought many new students to the school.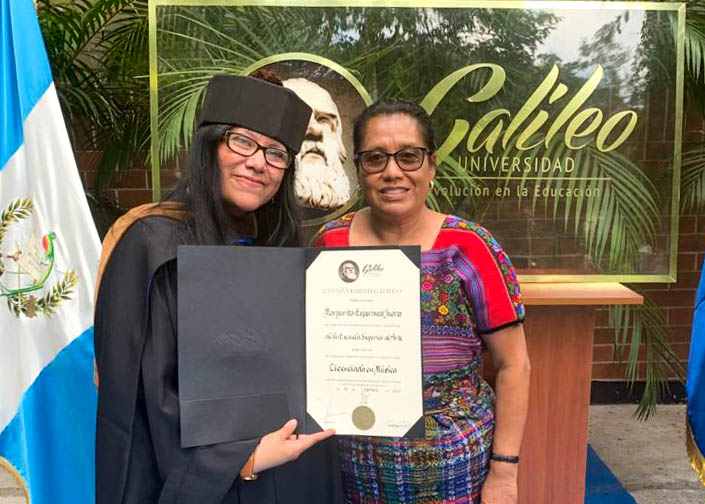 Eventually Margarita decided to pursue a degree in music and psychopedagogy. After a year of working and studying full time, she realized she could earn a good income by offering private tutoring to special needs students. Her new tutoring business gave her great flexibility, and when the pandemic hit, she was able to move her tutoring online, which has continued to provide her with a steady income over the last two years.
After graduating college last year, Margarita decided to move back to Chimaltenango and is finally pursuing her passion of becoming a music teacher. She has a new part-time teaching position at a private school in the area. Margarita plans to involve herself in other part time jobs as well, such as singing at events, directing and arranging music for a children's choir, and continuing to tutor a few of her older students.
Margarita is very thankful for the foundation she received at Agua Viva. She's also excited about the future and the job opportunities her new degree will provide her. This young woman is such a great example of what a person can achieve with hard work and determination. We couldn't be prouder of her!
We want to send a huge "thank you" to everyone who has sponsored the children at Agua Viva over the years. It is because of your friendship, prayers, and support that students like Margarita have the opportunity to live a productive life and to become the people God created them to be.