A Mother's Dream
"My daughter's starting 7th grade this year. I was never able to study past the 7th grade, and I want to see my daughter do more than I could," said Maira, the mother of scholarship student Jemima.
Because she's a single mother, Maira lives with her parents and her brother's family, who help support her and her daughter. Work's difficult to come by, and funds are always tight for the household.
Maira was concerned about the poor quality of education in the local public schools. Her despair turned to joy when Jemima received a scholarship that allowed her to attend Agua Viva Christian School. Even with the financial help, Maira and her family continue to sacrifice so Jemima can stay in school and get a good education.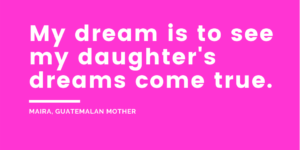 Jemima loves school and studies hard so she can succeed in all of her classes. Several times she's passed the entrance exams that allow her to compete in the National Math Olympics. "Even though I've never won a medal, I love competing and representing my school," Jemima told us with a smile. She hopes to be a veterinarian one day and enjoys caring for her pet dog and cat. In her free time, when she's able to access the internet, she enjoys researching what veterinarians do, and the prerequisites needed to attend vet school. Maira's proud of her daughter's ambition: "My dream is to see my daughter's dreams come true. I remind her that God is guiding her life and will provide whatever she needs to fulfill his plans for her."
Join the Agua Viva family by sponsoring a child like Jemima today.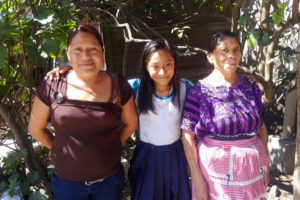 (Jemima with her mother Maira and her grandmother.)
In addition to getting a great education at Agua Viva, Jemima is learning her value as a human being, as a woman, and as a member of her community. We're excited to see what God will do in her life and the lives of her family members, who continue to encourage and support her.
Bring a high quality education and hope for a brighter future to one of the 36 children still waiting for sponsors.