By Eric – Crowdforville, FL
I was a kid who loved God and learning about other cultures. That was all I knew when I showed up at Agua Viva's doorsteps for the first time ten years ago. My name is Eric Elmore, and I am currently a high school Spanish and History teacher, but when I first visited Agua Viva, I was just a student who loved learning about how people lived in other parts of the world. More than just wanting to learn about how they live, work, play, and think, I wanted to know how to show them the love of God. I did not know in what way God wanted to use my team and me for that one week in May, but I was sure that God was in control of it all. In His providence, I not only got to be a part of a short-term mission team in 2013, but the next summer I was able to go to Guatemala all summer and help other teams with translation.
It was an amazing summer full of learning and making new friends, with kids at home and Americans from all over. When the summer was over, I flew back home, married my beautiful girlfriend Logan, and we now have two amazing children Everett(2) & Audra(4mo). We moved from Mobile, AL where I am from to Gainesville, FL for my wife to become a veterinarian, and then finally landed in Crawfordville, FL where she is from. I always said that I would like to go back to Agua Viva one day but was unsure if it was in God's will. Years passed, the staff changed, and I knew fewer and fewer people there. Then after the craziness of the pandemic, God tells my local church that it is time to refocus on missions. I joined the newly minted committee we formed (yes, we're Baptists) and didn't really know what to expect; I just wanted to be in the room. In the first meeting, the question is posed, "So, where are we going and when?" I immediately answered, "I know a place." From there, God showed us that it was His will for us to go to Agua Viva.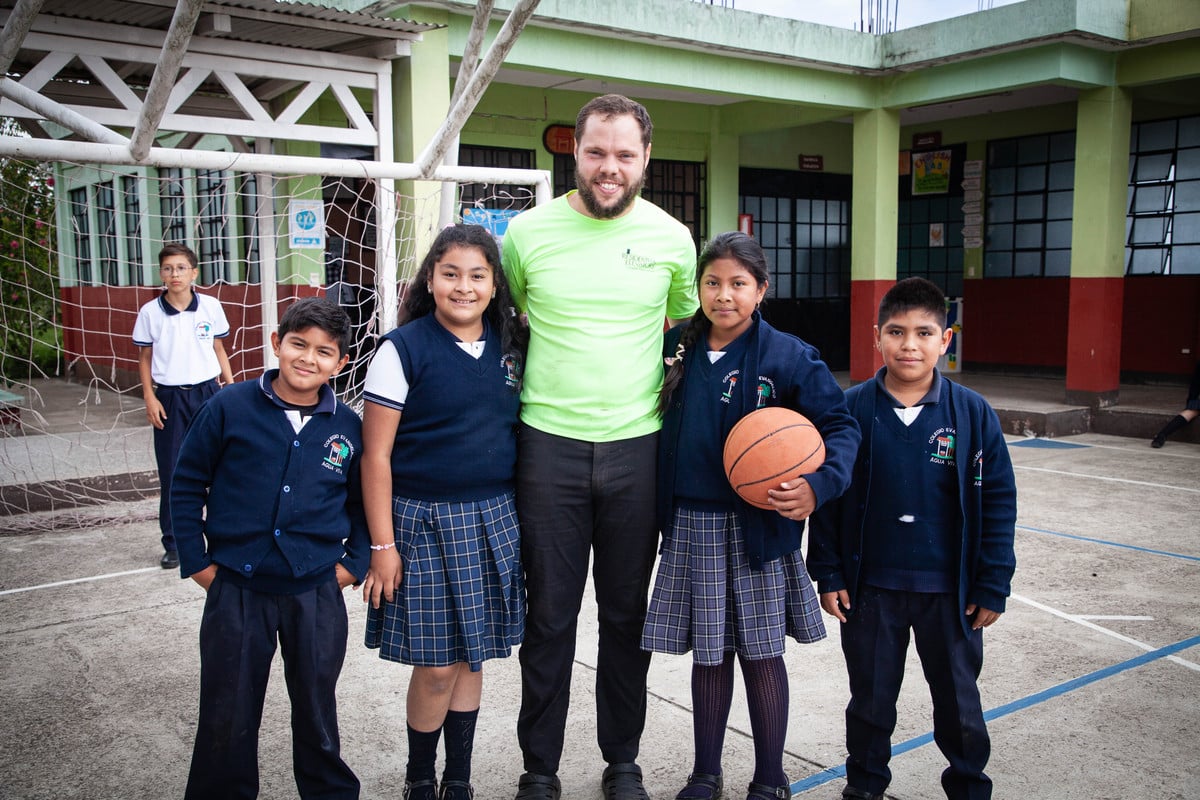 I didn't know much about AV anymore. It had changed drastically. The home had been shut down some years ago, the director was a new woman who I had never met. Despite all these changes and questions, we decided to go as we felt God lead. Some things were different this go around. The large crowds of kids at breakfast and dinner had been reduced to just my team. The all-day game of soccer had been reduced to school hours only. Amidst all the differences there were still some things that had not changed. The community around AV, Colonia Puerto Rico, was still impoverished and in need of the gospel. The students still have needs that we can help with. The staff is still amazing at teaching and showing their students who God is. Guatemala is still a beautiful country with significantly better weather than my hometown. There were still some maintenance projects that needed to be done.
Through it all, God showed me that He is still working through Agua Viva to spread His gospel and train up a generation of Christian leaders in Guatemala. There are future lawyers, doctors, nurses, IT specialists, artists, farmers, electricians, and many others who are being educated from a Christian worldview. I am thankful to God and everyone who made this trip possible. I am hopeful that this story inspires others to join Agua Viva in its mission. God bless.