Our Happy Place
Christy and her team call Agua Viva their "Happy Place." She told us, "We literally feel the happiest when we're there loving on our family. That's what Agua Viva is to us. You truly are our family!"
Since the first trip with her son's church, Christy has begun to bring her own group from her church in Hernando, MS. Their team might be small, but they always bring much love and excitement with them. In the past they enjoyed doing games and crafts with the children, but this summer they're excited to run their first English Camp as an after school program.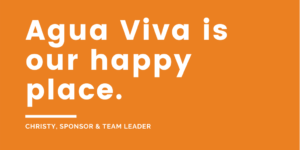 Christy's team loves supporting the school and God's work there: "I want more and more Guatemalan students to be able to attend Agua Viva School, not only to be educated so they have brighter futures, but so they can feed on God's Word. That's what we as Christians are supposed to do: go and make disciples."
On her last trip, Christy and her daughter were blessed by the opportunity to meet their sponsor child, Adriana, as well as her mother and sisters. "Meeting them was a dream come true. We couldn't resist sponsoring Adriana's sisters as well. These girls have become a part of our family! Praying with everyone was such a blessing to my daughter and me."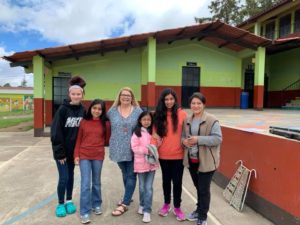 "I've seen the love and compassion that employees, volunteers, and teams have for the students and their families. Their love truly is unconditional. They also lead the students toward Christ, lifting Him up in every way they can. They're great examples of how to treat each another," observed Christy.
We invited you to come and see for yourself the work God is doing at Agua Viva. You'll be able to learn about the culture, our community, and the students' families who are learning about the gospel. An exciting opportunity awaits!